I publicly embraced Jesus Christ as my Lord and Savior on March 28, 1999 and have been on a fascinating journey with Him ever since.
I have learned that every journey in life is full of twists and turns, potholes and pitfalls, with many detours along the way. Sometimes you even end up back where you started and you have to begin all over again! But amidst all the distractions in life God provides lovely scenery if you only take the time to choose your steps carefully, and let the Him guide your path. At the end of each day, I count my blessings and thank God for the lessons I've learned and the people I've met.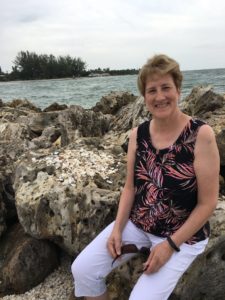 Although I spent most of my childhood and adult life in Massachusetts, I now live in a rapidly growing suburb of Washington, DC with my husband, daughter, and her two bunnies, Max and Charlie. I am blessed to work as Office Manager at my church where I am surrounded by friends who have helped me immensely as I continue to grow in faith. I sing in our Sanctuary choir, volunteer in many different ministries, and also lead a fitness ministry called "PraiseMoves". You can learn more by visiting www.praisemoves.com.
In addition to blogging, my hobbies include genealogy (I am a proud member of the DAR), bird watching (especially backyard birds), knitting and cross-stitching. I love to read and travel too!
Thank you for visiting my devotional blog. I hope you'll come back often and please feel free to leave your feedback.
Have a blessed day!
Dawn