I've enjoyed a lengthy hiatus from writing this summer. My intention was to take some time to rest and reflect, however I really didn't do much of either during this break.
Life moves at a frenetic pace here in northern Virginia, and everyone always seems to be on edge. We live each day trying to cram in as much activity as possible, posting a play-by-play on social media for all the world to see. We walk through life holding our cell phones, always looking down, missing the beauty of the world that surrounds us.
In many ways, I am a shining example of the frantic life I just described. In my own little world, I struggle to strike a balance between work and leisure, mainly because I am easily distracted by the clutter — both virtual and tangible — in my life. I long to simplify.
Let me share a story.
My family and friends know that I am a bird lover. I can identify many birds by their songs and enjoy watching them when they visit our bird bath and feeders.
Every spring I hang a single hummingbird feeder in our back yard, and wait with eager anticipation for the arrival of the first of the Ruby-throated Hummingbirds. They typically pass through our area in early spring as they migrate to their northern breeding grounds. I am always hopeful that one will decide to stay, attract a mate, and build a nest nearby. But every year the "hummers" are a no-show, and I take down the feeder, storing it away for another season.
It was the same pattern this spring. I had already taken down the feeder just a few weeks after hanging it, but then something amazing happened, causing me to look at my busy life with fresh eyes.
One day while I was eating lunch in our kitchen, my daughter casually remarked that she had seen a hummingbird in our yard earlier that morning. "Really?" I asked, looking intently out the window. I was skeptical. After all, what would attract a hummingbird to our yard at this point?
But then I saw it! Had I not looked up at that moment I would have missed it entirely. A single tiny hummingbird was hovering above our gladiolus, swooping and sipping, dipping and darting from one blossom to the next. Of course! This was the first year we had planted flower bulbs at one end of our vegetable garden. The hummingbird was attracted to those beautiful bright red flowers!
I dusted off the feeder and quickly made some nectar — a mixture of 1/4 cup of sugar stirred into 1 cup of boiling water. When it was cool, I filled the feeder and hung it in the yard before returning to work. Then every day I watched with delight as a pair of hummingbirds visited our flowers and feeders. When the flowers stopped blooming we added a second feeder, and before long there were several pair feeding throughout the day.
I began to wonder how many times I may have put the feeder away prematurely. These tiny birds move so quickly that they are easy to miss. Was I so wrapped up in the details of my busy life that I overlooked something that was there all along? To finally see them, I simply needed to slow down and be still. I had to pause my life just long enough to witness this little reminder of how God is ever-present, even in the everyday life of a hummingbird.
That was truly an eye-opener for me. Since then, I've taken every opportunity this summer to sit and watch the hummingbirds. I have faithfully kept fresh nectar in the feeders and they have stayed all season. I know in just a few short weeks they will depart and head south to their winter home in Mexico, Costa Rica or Panama. But now I know that these tiny travelers (and their offspring), whose wings beat up to 50 times per second, will likely return to my yard again next spring. I can hardly wait!
I thank God for opening my eyes, and for these amazing little birds He so lovingly created.
All creatures look to you to give them their food at the proper time. When you give it to them, they gather it up; when you open your hand, they are satisfied with good things.
Psalm 104:27-28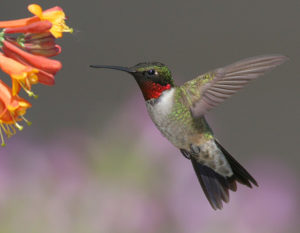 To learn more about the Ruby-throated Hummingbird, visit allaboutbirds.com.