Have you ever felt weary, right down to your bones? That is the only way I can describe the feeling I have had for the past week. As I have learned from past experience, I need to embrace such times and recognize them as a prompting to slow down and rest. I need to choose my activities thoughtfully during this time and allow myself to unwind and be at peace.
The Lord replied, "My Presence will go with you, and I will give you rest."
Exodus 33:14
If you are anything like me, you typically try to ignore the urge to rest. Slowing down just doesn't seem like an option when life keeps you running 24/7. Resting feels like a luxury and becomes our lowest priority. I know, however, that this is not a healthy pattern or how the Lord intended me to live.
So today, as I enjoy a well-deserved holiday and celebrate the freedoms I hold so dear, I will begin my down-time. As part of this rest period, I'll be taking a break from my Sunday blog. I hope that you will spend some time exploring and reading a few of my past posts. I invite you to use the search feature on my home page to find a favorite Bible verse or a topic you'd like to explore. (I especially welcome your comments and always cherish your feedback.) I pray you will find peace as you peruse. 😊
Wishing you a restful summer!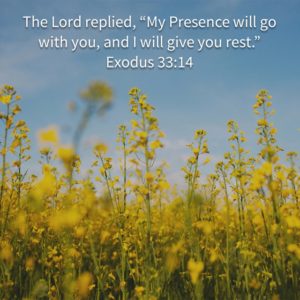 Sent from my iPad